Medications & Medication Management

Prescriptions are delivered right to your door in pre-filled bubble packs. Over the counter (OTC) medications are also included

Medical Equipment & Supplies

Examples may include oxygen, oxygen supplies, wheelchairs, walkers, canes, shower chairs, emergency response equipment, diabetic supplies & so much more!

Physician & Specialist Services

LIFE-NWPA has an extensive network of providers & specialists

Social Services

Social services may include counseling, help with obtaining resources, psychiatry & psychology

Emergency & Hospital Care

Examples may include labs, outpatient procedures, ER visits, hospitalizations & nursing home care as needed and directed by LIFE-NWPA

On-Call Services

Clinical providers are available 24/7 for any urgent medical issues. They are always just a phone call away

Adult Day Health Center

The LIFE-NWPA Centers are open Monday through Friday and offer a wide variety of additional support, services & access to the care team as needed

Nutrition Services

Nutrition services may include meals in the home, nutritional supplements, therapeutic diets, nutritional counseling & education

Transportation

Transportation to all medical appointments & to and from the Day Center is provided. LIFE-NWPA has a fleet of vans equipped with lifts & trained staff to accommodate special transportation needs

Hearing Aids

All LIFE-NWPA participants are screened for auditory needs. Hearing aids are provided when medically necessary

Home Care

LIFE-NWPA helps with light housekeeping, meal preparation & laundry in your home

Personal Care

Personal care can be provided in home or in the LIFE-NWPA centers where personal care rooms are available to support independent or assisted personal care

Skilled Care

LIFE-NWPA provides highest level of care before a nursing home. Examples of skilled care may include wound care, in-home nursing, catheter care, IV therapy, injections, & physical therapy

Dental Care

Dentures & denture assessments, restorative care, infection prevention, fittings, preventative care, & dental cleanings are included with LIFE-NWPA dental services

Vision Care

Coverage includes eyeglasses, eye exams, routine eye care, diabetic vision care, preventative screenings, glaucoma & cataract screenings, & assessments

Therapy

Physical Therapy, Occupational Therapy, wellness, durable medical equipment, in-home support & equipment
There are no out of pocket costs for any of these services when medically necessary and provided by LIFE-NWPA and its network of providers. LIFE participants receive all their care and services from the LIFE-NWPA network, including primary care and specialist services. Participants may be fully and personally liable for the costs of unauthorized or out of network and/or out of agreement services, with the exception of emergency services.
Meet the team that provides all these services for you. Care Team
Service Spotlight
Transportation
Do You Know a Senior That Struggles With:
Getting to and from medical appointments?
Being able to get shopping done?
Arranging a ride or scheduling transportation?
The LIFE-NWPA transportation team works to ensure that all medically necessary transportation needs are met for our participating seniors. LIFE-NWPA has its own fleet of vans and trained drivers to help seniors get to and from all medical appointments. LIFE-NWPA seniors do not have to worry about coordinating transportation to their important medical appointments like cardiology, oncology, dialysis and so much more. When seniors receive services from LIFE-NWPA, they always have a safe ride to their doctor. LIFE-NWPA is a part of the national Program of All-Inclusive Care for the Elderly (PACE). The goal of LIFE-NWPA is to help seniors stay safe, healthy and independent in their own homes and communities for as long as possible. When financially eligible, there are zero out of pocket costs for any medically necessary care or services from LIFE-NWPA and its network of providers.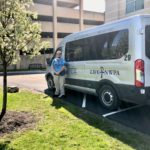 If you know a senior who has been struggling to find transportation to their medical appointments, call us today to find out if LIFE-NWPA may be an option.
Transportation is just one of many services provided by LIFE-NWPA. Call us today to find out more!